Soothing Seascapes from The Florida Aquarium
Enjoy The Florida Aquarium's breathtaking views from the comforts of your home.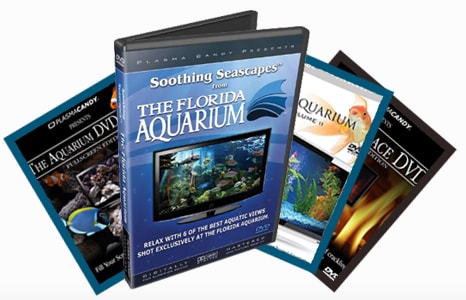 Uses a fixed shot to create the illusion that your TV is an Aquarium.
Showcases exceptionally clean tanks with crystal clear water.
Makes it easy and fast to play
Uses real life fish! No computer animation.
Features aquariums with incredible reef and live plant backgrounds.
Recorded especially to fill any (standard, plasma, LCD and all others) TV screen!
Hear the Dolby Digital Sound of an actual aquarium.
Just the right classy touch for parties, office environments or romantic occasions.
Programmed to play in all major DVD players.
This DVD has captured many of The Florida Aquarium's best exhibits. Relax and enjoy the beauty of nature, with scenes of serene jellyfish, playful clownfish, magnificent sharks and stingrays, graceful leafy sea dragons and stunning coral reefs.
In true Plasma Candy fashion, each scene was shot from a fixed position to make your TV look like a clear window to an aquatic wonderland.
Soothing Seascapes from The Florida Aquarium is guaranteed to enhance ambiance at your next gathering, at the office, or simply while relaxing at home.
If you like what this DVD has to offer you will surely like the Aquarium DVD Vol 1 and Vol 2 as well.
Testimonials
"Often we need a relaxing respite with no personal effort involved, just for a break from the hectic routine. I found it in this video. I remember how relaxing it once was to watch the fish in our tank when we were able to maintain an aquarium in our living room. Now, there's no time for that. But this video allows us the relaxation without the work or the worry of taking care of the fish. Oh, the music is great. We are enjoying it!"
— Margaret Zelinski
"My grandmother is in a nursing home with lots of sadness surrounding her. She is always anxious. I brought her this DVD and she loves it. She said it makes her feel calm and relaxed. So I think of it as an environmental massage. I will certainly think of The Soothing Seacapes DVD as a great gift to those in Rehab or in a nursing home. It is so serene and full of God's beautiful creations of nature. Thanks so much for such great photography.I would recommend this DVD to all who love nature and need a way to relax."
— Alexander, Philadelphia
"This DVD is everything I had hoped for and more. The variety of aquariums is fantastic. It gave me some great ideas for my next tank. The colors were so vivid, fantastic. I can't wait for Aquarium DVD Vol 2 to come out. Plasma Candy really hit the bulls eye on this one!!!"
— Kathleen A. Kohl
"We love ambient DVDs, especially those from Plasma Candy. The photography is always top-quality! We love to give these DVDs as gifts. Our grandchildren are flying in for a visit this spring. We're buying a copy of this great DVD for them. They'll have a chance to preview the wonders of the Florida Aquarium before visiting in person this spring. They are huge aquarium fans (thank you Finding Nemo!), so this beautifully photographed DVD will find a happy place in their extensive DVD collection. Thanks Plasma Candy for another winner!"
— K. Bower