Turn Your TV into An Underwater Aquarium!
Enjoy scenes from The Florida Aquarium's best tanks.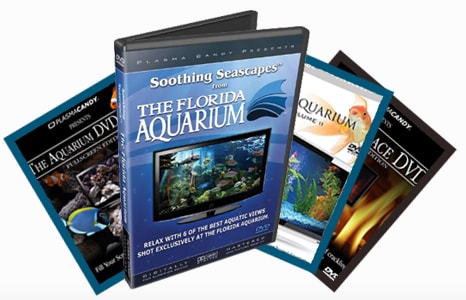 Uses a fixed shot to create the illusion that your TV is an Aquarium.
Showcases exceptionally clean tanks with crystal clear water.
Makes it easy and fast to play
Uses real life fish! No computer animation.
Features aquariums with incredible reef and live plant backgrounds.
Recorded especially to fill any (standard, plasma, LCD and all others) TV screen!
Easy to loop any of the five individual tanks (3 saltwater or 2 freshwater) or play all five fish tanks in sequence.
Hear the Dolby Digital Sound of an actual aquarium.
Just the right classy touch for parties, office environments or romantic occasions.
Programmed to play in all major DVD players.
We set out to make the best aquarium DVD on the market by filming the finest fish tanks available. We did a lot of research on the current DVDs on the market and we found quite a few areas we could improve upon.
Plasma Candy's Aquarium DVD Vol. 1 was shot using a high powered HD (High Def) camera, however like all the non-BlueRay DVDs out there, the quality will be just slightly better than a standard DVD. (We just don't want to mislead you by saying "shot in HD" like all the other companies without explaining that fact.)
You're sure to enjoy the 5 elegant fish tanks (2 freshwater & 3 saltwater) included on this DVD. Sit back & relax with these impeccably maintained tanks with crystal clear water and vibrant healthy fish.
Testimonials
"My 3 year old likes this Nemo better than the movie! Thank you for making a fantastic product. The picture is super crisp, awesome."
— Jennifer, Tampa, FL
"We needed a DVD to play in our office, one that would bring peace and productivity to the environment. This DVD did just that. It truly makes your tv appear as a fish thank, with its audio, quality. I selected it because it is clearly the ONLY professionally made DVD out there."
— Alexander, Philadelphia
"This DVD is everything I had hoped for and more. The variety of aquariums is fantastic. It gave me some great ideas for my next tank. The colors were so vivid, fantastic. I can't wait for Aquarium DVD Vol 2 to come out. Plasma Candy really hit the bulls eye on this one!!!"
— PJD, Va.Bch.
"The videography on The Fireplace DVD really captured the true colors of the flame. Very impressive! It looks amazing our our TVI put the DVD in at home to show my wife. While we were getting ready for bed my four year old son sits down to watch the fish. I didn't think too much of it. After about five or ten minutes, I came back through and he was still staring at the fish. He was mesmerized! It must be how active those fish are. What did they put in the water? Anyways, after prying him from the TV, the next morning our son's first question is 'can I watch the fish?'"
— Nick Johnson, Indiana
"The Aquarium DVD exceeded my expectations. The DVD is so authentic and simply fantastic! I am impressed, and so are many of my friends who have seen it. What a great product….thank you and keep up the good work."
— Gail Duberstein, Virginia