The Aquarium DVD Vol 2 – More Amazing Tanks and Extraordinary Fish
Get a close-up view of the underwater world from the comfort of your own home!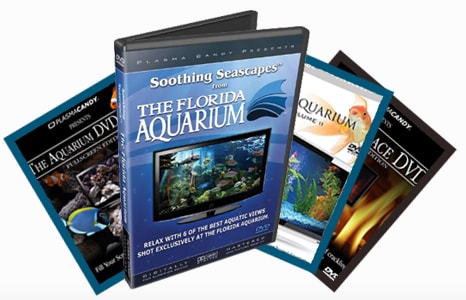 A fixed screen shot to create the illusion your tv is an actual aquarium
A clear, vibrant picture shot with an HD camera
Soothing, natural aquarium sounds
A wide variety of exotic and beautiful sea life
Relaxing at home
Enhancing ambiance at the office
Entertaining at gatherings or lounge settings
When filming The Aquarium DVD, we came across so many amazing tanks that we had to produce Volume 2.
The DVD is packed with spectacular reefs and plants as well as extraordinary fish. With 3 fresh water tanks and 3 salt water tanks, you will enjoy hours of relaxing aquarium life.
An aquatic experience with the click of a button! Works on any TV and DVD player!
Testimonials
"Perfect for our 55 inch TV! Nice to have on in the background at dinner parties. It is well done, there is no view of the top of the tank on the video so it looks like a fish tank. I would not put it on a larger TV because the image will also enlarge. We tried it on our 80 inch TV and the fish were bigger then my head, it was funny. Great clarity and multiple tank options!"
— mikiick
"Love this DVD! Very soothing and relaxing! I play it at night to settle in the kids and have their TV's set up on sleep mode. Works like a champ!"
— Lisa M. Mitchell
"A neat idea -- stationary view of fish in an aquarium. Similar to the Holiday Yule Log that shows a roaring fireplace on your TV, this one shows a view inside an aquarium. Looks really cool on a big-screen TV. We keep it on all day in our office. Saves lots of money when we don't have to feed the fish or scrub out the aquarium!"
— Wilmington Institute
"This is a good way to use your dvd / tv for a relaxing gathering of friends."
— Roger Nelson